A salute to National Cemeteries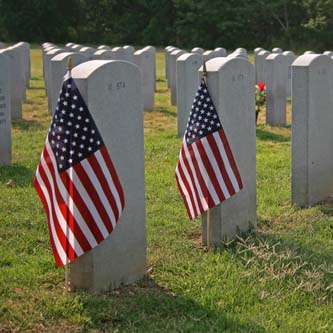 Some of the most dignified, hallowed, and beautiful grounds in the U.S.A. are our National Cemeteries. On Veterans Day and Memorial Day, we often see news footage of ceremonies at the most famous one, Arlington National Cemetery near Washington, D.C. Unfortunately, Arlington may be the only one most Americans know. It may surprise you to learn the United States National Cemetery System includes 147 cemeteries for military personnel, veterans and their spouses.
Most (131 of the 147) are maintained by the National Cemetery Administration of the U.S. Department of Veterans Affairs (VA). The Department of the Army runs two (including Arlington), while the National Park Service maintains the 14 cemeteries associated with battlefields, such as Gettysburg, and other historic sites. Most offer burial sites for both full-body and cremated remains, plus mausolea and columbaria for above-ground interment.
Texas National Cemeteries
There are six national cemeteries in Texas: two are in San Antonio, while Dallas, Houston, El Paso and Kerrville each have one. Four other veterans' cemeteries were established by the State of Texas and are found in Killeen, Mission, Abilene, and Corpus Christi.
If you or a loved one is an eligible veteran and you want that service to our country to be remembered forever, I would encourage you to check out the National Cemetery Administration's terrific online Resources Guide. It gives details about many kinds of burial benefits, including honors the VA provides at no cost such as burial flags, headstones or markers, a presidential memorial certificate, as well as military funeral honors provided by the Department of Defense.
People who want to find the resting spots of service men and women from the past will also find the Resources Guide helpful. It gives maps and lists locations of veterans cemeteries across the country and even features a link to the Nationwide Gravesite Locator, a database of burial information that is updated daily.
Local Cremation and Funerals has a special respect for those who have served our country. We help veterans and their families by working with the VA and state authorities, coordinating veterans graveside services and other final arrangements. We would be honored to serve you. Call us at (214) 343-4040.
About Local Cremation and Funerals
Local Cremation and Funerals provides cremation and simple burial services throughout the Dallas-Fort Worth Metroplex. Contact us to set up an in-person meeting at our Dallas location. We also are available to meet with families at your home or a location of your choosing. Visit our website for a full list of the services available and Local Cremation and Funerals current pricing. Local Cremation is a Texas licensed funeral establishment and has an A+ rating with the Better Business Bureau.