Choosing a cremation urn for the cemetery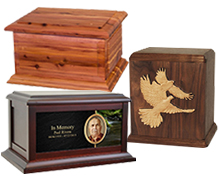 Searches for traditional urns usually bring many, many choices. By traditional, I mean the ones that are displayed indoors. The options are more limited when you consider cremation urn containers that will hold cremated remains outdoors, either above or below ground.
Above ground
Some cemeteries have a columbarium, which features numerous individual niches to hold containers. We often recommend metal urns for this purpose, such as bronze, brass, pewter, and stainless steel although almost any urn designed for human remains (also called ashes) will work. Keep in mind, unless the outer wall of the columbarium is made of glass, you probably won't see the urn once it's been placed. Other options include ceramic or glass, but they're more vulnerable to cracking.
Below ground
I've worked with many families that prefer below-ground burials of cremated remains. Many people like the idea of cremation, but also want a defined place where family and friends can go to remember them. In some cases, they already own a burial plot in a cemetery, often near the sites where parents or other relatives were buried. For burials, many cemeteries require an urn vault. When that is the case, urns made of almost any material will work. The vault is typically sealed to keep out moisture and other elements of nature.
Without a vault, think durability – sealed metal urns or ones made from composites or resins. In this situation, we would not recommend a cremation urn made from wood, ceramic, or glass because they are likely to lose their integrity over time and crack under really dry conditions, which are not unusual here in Texas. Natural stone urns such as marble and onyx also aren't very sturdy over the long term.
We at Local Cremation and Funerals are more than happy to share our expert advice and help you choose the right urn for the setting and conditions. I encourage you to call us anytime at (214) 343-4040.
About Local Cremation and Funerals
Local Cremation and Funerals provides cremation and simple burial services throughout the Dallas-Fort Worth Metroplex. Contact us to set up an in-person meeting at our Dallas location. We also are available to meet with families at your home or a location of your choosing. Visit our website for a full list of the services available and Local Cremation and Funerals current pricing. Local Cremation is a Texas licensed funeral establishment and has an A+ rating with the Better Business Bureau.