Columbarium or mausoleum: Above ground, permanent resting places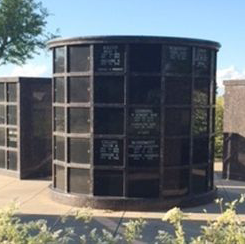 At some point, you've probably passed a traditional cemetery and wondered about the ornate building(s) on the grounds. More often than not, that building is a mausoleum. It could also be a columbarium, or a combination of both. Here's a quick look at where those terms came from and what they mean now.
The National Funeral Directors Association defines a mausoleum as, "a building designed for above-ground placement of a casket. The casket is placed into a crypt that may be designed for one or two persons." The building can include a single crypt, a chamber that holds a few people (such as for a family) or a combination of both. The mausoleum's markers may be on exterior walls or the crypts may be viewed from inside a climate-controlled building.
One of the original "Seven Wonders of the World" was actually a mausoleum. The Mausoleum of Halicarnassus was built in 353 B.C. near modern-day Bodrum in Turkey. It was the tomb of a Persian ruler named Mausolus. The structure was so grand and admired, the term "mausoleum" became the word used for tombs built above ground from that time on.
It also brings up an interesting twist on history and language. The museum next to the site of those ancient ruins in Turkey states that Mausolus and his wife were likely cremated and urns containing their remains placed in the tomb. These days, a structure that contains cremated remains is called a "columbarium." But, of course, no one is expecting them to change the name to "Columbarium of Halicarnassus."
Columbarium comes from "columba," the Latin word for dove, and originally referred to compartmentalized housing for doves and pigeons. When a structure was created with multiple niches to house what we now call cremated remains, it looked a lot like a columbarium, so the name stuck.
Whether you want full-body burial (above or below ground), cremation where the remains are kept and preserved, or some other option, Local Cremation and Funerals is here to help. Please contact us anytime at 214-343-4060 and one of our team members will be happy to assist you in making preparations.
Local Cremation and Funerals provides cremation and simple burial services throughout the Dallas-Fort Worth Metroplex. Contact us to set up an in-person meeting at our Dallas location. We also are available to meet with families at your home or a location of your choosing. Visit our website for a full list of the services avamausoleumilable and Local Cremation and Funerals current pricing. Local Cremation is a Texas licensed funeral establishment and has an A+ rating with the Better Business Bureau