Identification During Cremation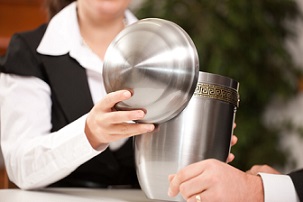 The cremation rate in the United States is hugging close to 50%, if not slightly over. With cremation becoming as common as burial, it means many families are considering cremation for the first time. One of the frequently asked questions of families new to cremation is about how cremation identification works.
The best way to ensure there is no concern about identification is to go with a licensed funeral home that, like Local Cremation and Funerals, that owns their own crematory and has their own transportation service. At the very minimum, select a Funeral Home that uses the latest identification processes at their crematory.
Suggestions for Families
Ask questions. If the Funeral Director is unable to explain in detail what their specific identification process is, you should be concerned. Don't be embarrassed to ask. I promise experienced Funeral Directors understand your concern and want you to be reassured your loved one is receiving good care. Being comfortable with the arrangement process – including the identification process – will go a long way in calming your fears.
Questions to Ask
Funeral Homes, like Local Cremation and Funerals know it is difficult to make decisions. Asking the right questions can help. Three questions I recommend asking a Funeral Director to provide reassurance they are following the recommended identification processes.
If I cannot be there when my loved ones passes, or if they are taken to a morgue, how are they identified?
If I authorize the cremation without a viewing, how do I know it is my loved one you are cremating?
How can I be assured the remains/ashes I am given are my loved ones?
Again, if the funeral home is not able to provide information, reconsider using them.
In Texas, the state crematories must carry out two processes to make sure the a loved one is correctly identified based on the name provided by the family (or authorized agent). The person's name (as provided by the family or authorized agent must be on the container that will be used to cremate the person. And, a metal disc, bracelet, or other item used by the crematory with the deceased's name on it must be returned with the remains/ashes.
If you are still not comfortable with the cremation identification process provided by the funeral home, three other things you might want to request:
Ask for a detailed explanation of the process either directly or in writing.
Request that the crematory manager do a comparison of your loved one with a current photo you provide to the funeral home.
Provide a description and ask the crematory operator or manager to do an identification check based on a unique characteristic such as a birth mark or tattoo.
It is important that you have peace-of-mind about the cremation identification process, especially if you are unfamiliar with cremation. At Local Cremation and Funerals we go above state requirements and use the current technology including bar code scanning to ensure each loved one in our care is recorded manually and in our system. We are here to assist you. Please let us know how we can assist you.
Local Cremation provides cremation and simple burial services throughout the Dallas-Fort Worth Metroplex. Contact us to set up an in-person meeting at our Dallas location. We also are available to meet with families at your home or a location of your choosing. Visit our website for a full list of the services available and Local Cremation and Funerals current pricing. Local Cremation is a Texas licensed funeral establishment and has an A+ rating with the Better Business Bureau.