Cremation urns: What to do with cremated remains?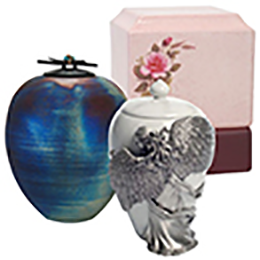 I often write about choices in funeral arrangements, especially for families that choose cremation. There are lots of decisions to be made, which is why our team at Local Cremation and Funerals strongly recommend using the services of a professional funeral director.
One of the decisions in the cremation process is what to do with the cremated remains (commonly called "ashes"). As cremation becomes more popular, there is a dizzying array of cremation urn possibilities, including traditional urns, unusual containers, keepsakes and biodegradable urns.
If convenience is important to you, many of the choices we're discussing here are available on the Local Cremation and Funerals website. We have a wide selection of urns, keepsakes, and jewelry that encloses or incorporates small amounts of cremated remains.
Since it would be impossible to spell out all the different kinds of containers now on the market, I have limited this article to some specific examples that have recently caught my attention. Do some research and you'll see I'm not exaggerating… the list of possibilities is huge!
Many environmentally-conscious Texans are already aware of tree seed options. Remains are added to a biodegradable urn with a future tree inside. The ashes become part of the tree… a new life that adds to the beauty of the planet and should endure for many years to come. A life-sustaining option is adding remains to environmentally-safe cement that is formed into an artificial reef and becomes a new habitat for fish and other forms of sea life.
Display pieces that are placed on mantels, shelves and other highly-visible spots are always popular. One of my favorites is an urn in the shape of praying hands. To honor lives of military service, there are triangle-shaped flag cases mounted on a pedestal urn. I also like the functional, dignified-looking clocks that feature a discreet compartment containing cremated remains. There are also absolutely beautiful custom blown-glass art pieces that incorporate your loved one's remains.
The options for what to do with cremated remains are limited only by your imagination. If you have questions or want some guidance on cremation urns, our team of dedicated professional at Local Cremation and Funerals is always willing to help.
Local Cremation and Funerals provides cremation and simple burial services throughout the Dallas-Fort Worth Metroplex. Contact us to set up an in-person meeting at our Dallas location. We also are available to meet with families at your home or a location of your choosing. Visit our website for a full list of the services available and Local Cremation and Funerals current pricing. Local Cremation is a Texas licensed funeral establishment and has an A+ rating with the Better Business Bureau.