Why are caskets so expensive?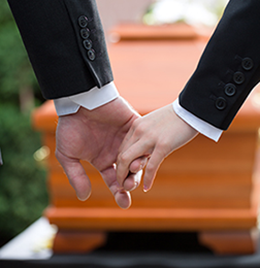 Caskets (or coffins), are a focal point of most traditional funerals. Caskets are placed at the front of the church, are present at the cemetery, and are on display during a public visitation. They also can expensive. But why? My answer is…It doesn't have to be.
The casket is one of the most important items in a traditional funeral. People tend to place a lot of emotional significance on the casket because it carries their loved one's body. Take it a step further, it is seen as protecting the body. It's also the last visible thing at a graveside service when final good-byes are said. And it is frequently the most expensive single item in a funeral.
The emotional tie to the casket, or coffin, usually influences the decision on what families spend. Many people feel guilty putting their loved one into a low-cost casket. As a result, they tend to spend more. If a family has the resources to purchase a top-of-the-line casket…and it makes them feel good…then they absolutely should spend the money. However, this is not the typical family.
Common sense approach to caskets
I would say this more tactfully if I were talking with a grieving family but, the reality is all caskets (coffins) serve the same purpose regardless of their price point. The casket purchased through an affordable funeral home like Local Cremation and Funerals or one purchased at a discount retailer is going to have the same basic function as a $12,000 casket at a high-end funeral home. The main difference being that some high-end caskets have more durable sealers.
I'm not advocating buying a casket with plastic handles that snaps together. Not at all. What I'm trying to do is reassure you that selecting a nice casket, within your budget, is a wise decision. In my years as a funeral director, I can count on one hand the people who have come in to make pre-arrangements for themselves and specifically said they want a solid hardwood or bronze casket with bronze handles. When the person who will be using the casket has the opportunity to have a say, they almost always choose something nice but moderately priced.
Things to keep in mind
The emotional value of the casket is only one factor. Pick something that is made of quality materials but keeps within your budget.
If you have a prepaid funeral policy or insurance policy, you may not have to use all of it, depending on how the policy is written. Typically, any unused money is returned to the beneficiary so don't pick a more expensive casket just because you have the funds available.  The best approach is to review the policy carefully. You may not be able to pick a lesser-value casket but you typically are not required to go more expensive. In fact, some policies require the funeral home to provide a casket that is equal or higher value and nothing lower.
Most funeral directors with your best interest in mind are going to work with you to find a casket that meets what you want for your loved one without running up your bill. For instance, at Local Cremation and Funerals we are not on commission so there is no incentive to do anything but make sure the family is satisfied with their funeral choices.
Call me or talk with anyone on our team about our affordable funeral packages. Several packages include a basic casket that comes in multiple colors or we will help you find the right casket that honors your loved one.
About Local Cremation and Funerals
Local Cremation and Funerals provides cremation and simple burial services throughout the Dallas-Fort Worth Metroplex. Contact us to set up an in-person meeting at our Dallas location. We also are available to meet with families at your home or a location of your choosing. Visit our website for a full list of the services available and Local Cremation and Funerals current pricing. Local Cremation is a Texas licensed funeral establishment and has an A+ rating with the Better Business Bureau.